The HVAC system is a crucial part of any business or commercial building. You depend on it to keep everyone comfortable, but finding a good commercial HVAC contractor can be challenging. Whether you're looking for a contractor who can install a complete system in a newly built retail space or one who can quickly and efficiently perform repairs for your restaurant, you want to ensure you are working with a company that will provide top-quality service. To avoid finding yourself in an endless cycle of unreliable companies that are a headache to work with, ask these questions before you contact your next commercial HVAC contractor.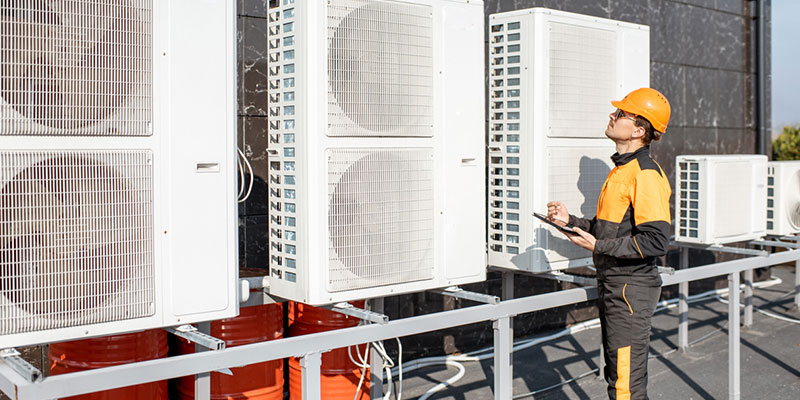 Does this company regularly perform the type of work I need to have done? Knowing what work you'll need a contractor to perform is the first step in determining which company is the right fit for your needs. This is because a commercial HVAC contractor can do different types of work, such as installation, repairs, maintenance, and custom system design; some can do everything, and others choose to specialize in different areas. Before you reach out to a contractor, determine if you simply need to have a few repairs taken care of, if you need to add onto an existing HVAC system, or if you want to install a complete commercial system. Before signing a contract, ask the company about their experience level with the specific work that needs to be done and how comfortable their technicians are with the required labor.
Do they work with the manufacturer that I prefer or already have installed? Another thing to consider is that, while some companies can provide service for various air conditioning units, it's common for a company to specialize in a particular one. For example, some contractors work on and install multiple brands, while others work exclusively with a single manufacturer. Before booking services, ensure you have discussed what brand they work with or what you already have installed.
Can they provide service in my area? Make sure you know what areas the HVAC contractor you're considering can offer services in before you contact them. General search engines like Google or Yelp may not always be reliable and often show you search results for companies that can't come to your area. Conversely, many companies provide services in a wide area and may be able to travel to you even if they are based outside your town or city. Before you contact a commercial HVAC contractor you think you'd like to work with, check to see if they have a "Service Area" or "Service Map" listed online. The bottom of the Home page on the company website is an excellent place to look.
Finding a reliable commercial HVAC contractor with whom you can build a lasting relationship is an essential aspect of any business. Being proactive about asking what a company specializes in, what manufacturers they work with, and where they provide services can help you make sure you're hiring a contractor who you can build a lasting business relationship with.